Site News
3 June 2017 -- updated "Lizzie V" and added three new galleries!
31 May 2017 -- Some new photos coming. In January, I visited "Lizzie V" at the Boeing museum in Seattle again while visiting family.
Two weeks ago I was in southern CA and swung by Chino to see the only remaining F-5 at the Yanks Air Museum in Chino, CA for the first time. One of the curators was very gracious and let me get up close to the plane! At the Planes of Fame also in Chino I had a real treat as got to see "23 Skidoo" start up and fly away! And then I visited the P-38 National Association museum in Riverside, CA and had a great visit with the enthusiastic docents there. Hope to have the pics up soon. Meanwhile here's a shot of yours truly at the P-38 National Association museum in front of their full-scale replica, and a short video of 23 Skidoo starting up.
4 Oct 2016 -- After about 6 years break from flight-simming, I'm slowly getting back to it. I got the itch while doing some extended traveling this summer.
After discovering an error in the last versions of my P-38J, F-5, P-38L and P-38M models, I've also been tinkering a bit with development again. I doubt I'll get into as seriously as before, but I thought I would mention it. I plan to post fixes to the affected models sometime in the future, maybe with a few minor enhancements too.
10 Aug 2016 -- while not a P-38, I had the pleasure of seeing "FIFI" at my hometown airport this past weekend.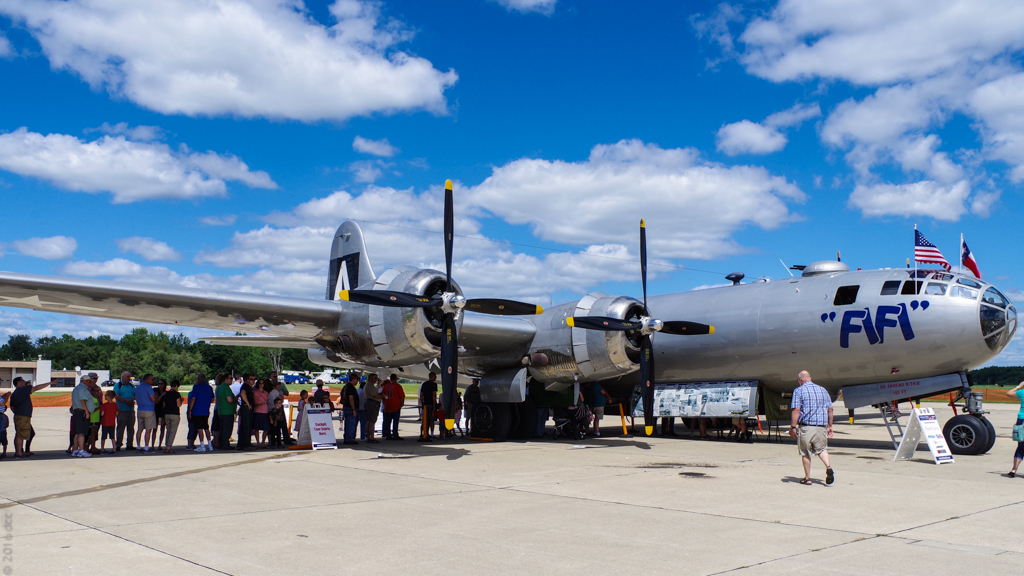 Also, I'm now officially an "empty-nester," as our youngest is off to university. Perhaps I can finally complete the walkaround section of this site. :-)
15 May 2015 -- Do you like music? Read on:
The last few years I've been spending most of my "free time" on my other hobby: music. My band's first public album was released today, and is available for download on iTunes, Amazon, Google Play, etc. If you enjoy the photos and/or the FS models on this site and would like to find some way to thank me, and if you like electronic music, I'd very much appreciate it if you purchase the album. :-)
Sorry, it doesn't have any P-38 sounds on it, but it does have well over a thousand hours of TLC. See my band's website : www.kazoku.org/lvdtsimulator.
31 Mar 2015 -- I'm still here :-) Just haven't done much with the site for a little while. However, I have another P-38 photo trip planned for this summer, so expect to see some updates coming soon.
7 July 2013 -- The Smithsonian's P-38 gallery is now available in the walkaround section.
28 June 2013 - visited the P-38 at Smithsonian Udvar-Hazy annex in Washington DC last week. Watch for the new gallery soon.
22 April 2013 - Fifteen walkaround galleries are now available in the new format, including many previously unpublished photos. More will be added very soon.
30 Mar 2013 - After over a year of inactivity, I am finally back to working on this site. Armed with a new PC, new photo-editing, web-site and photo-gallery software tools, I'm giving the site a more modern look and updating the content. In addition to the the photos I've had up for years, I will be adding hundreds of new photos taken the past 2 -3 years.
- dcc
Keywords: P-38 Lightning, P-38 FS2004, P-38 Flight Simulator, P-38 Walkaround, P-38 Photos, P-38 Images, P-38 Photo Gallery, Lockheed P-38, P-38 Pictures
If you like music, please see my LVDT Simulator site
About This Site
I began this project in 1998 to explore my vision of what the next P-38 might have been had the war continued (the last production variant was 'M,' so the next would have been 'N'). (Click here for a little 'fiction' about the XP-38N).
Over the years it evolved into a comprehensive exploration of the Lockheed P-38 'Lightning' through flight simulation. While the scope of my project expanded to include all P-38 variants, the name still seemed appropriate: X, for eXperimental (experimenting with new techniques to improve realism) and N, representing a next generation of P-38s, a 'virtual' generation, if you will.
I have since retired from developing models for Flight Simulator. My P-38 models are still here; they can be found on the model page.
Now I focus more on P-38 history and photography. On of the items on my rather short "bucket list" is to see and photograph every remaining P-38. I want to share the photos with the world to help preserve the memory of those who designed, built and flew and maintained this unique aircraft.