News
Mar 2022 -- Recording is complete on the new album!
After an eight month hiatus in 2021 due to to a severe case of writer's block, LVDT Simulator wrapped up recording on the new album. There are a total of 10 tracks, including six original compositions, plus four arrangements of existing compositions by various composers. Mixings is mostly done with mastering soon to follow. Cover art work has begun in anticipation of a mid-Spring release!
Mar 2021 -- Nine pieces are complete, with a few still in development. Right now it looks like the new album will have 13 tracks, maybe 14. It's still a little too early to precdict when the new album will be released but I'm definitely aiming for this year.
Dec 2020 -- Steady progress is being made on the new album. Eight pieces are complete with a few more in development. In the mean time I've made some changes to my studio, including selling some of my vintage equipment and buying another vintage unit with some new sounds and synthesis methods to work with.
Aug 2020 -- LVDT Simulator has been back in the studio off & on since February working on a new album. Six tracks are complete, and a few are in various stages of development at this time. I'm hoping to have 12 or so pieces done by next year for a mid-2021 release.
July 7
, 2018 - LVDT Simulator's latest album, Cleared for Takeoff is now available! To purchase it click on one of the links below (mp3 download only):

CD Baby (LVDT Simulator's publisher)

Amazon

Google

iTunes (search for LVDT Simulator)

The album is also on Spotify.

The cover art was done by David's daughter Amy, and features David's 6-month old grandson playing with a wooden toy plane, a toy much like David played with when he was that age.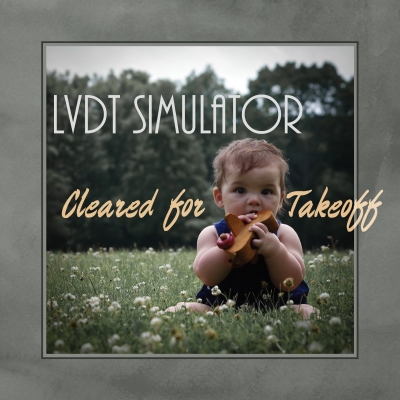 Cleared for Takeoff includes 14 pieces and lasts nearly 50 minutes. It features several original compositions, including one experimental piece that was recorded in one take. The album also has a few lively Bach pieces among a few other classical pieces, and one cover song -- an instrumental by David's favorite band, Rush. Follow this link for a PDF of the liner notes.

David's daughter Amy also made this promotional video as a project for a university class she took during the spring.


- - -

LVDT Simulator's first public release November is available for download (mp3) from CD Baby, iTunes, Amazon, Google Play and other music download sites. (To get it on iTunes, open up your iTunes app, go to the iTunes store and search for LVDT Simulator.)
keywords: LVDT Simulator, music, synthesizer, instrumental, electronic music
Welcome!
This is the official web site for the band LVDT Simulator (aka David C. Copley)